BIONIK-INNOVATIONS-CENTRUM
(B-I-C)
Biomimetics-Innovation-Centre
Since its foundation in 2005 the B-I-C has been coordinating research activities in the fields of basic research and development. Furthermore the institute supports technology transfer from science to industry, especially concerning the national and international networking of different actors in the environment of Biomimetics.
Since 2003, Bremen University of Applied Sciences has been running a biomimetics study course. The 7-semester International Bachelor's program in Biomimetics (B.Sc.) and the 3-semester Master's program "Biomimetics: Mobile Systems" (M.Sc.) are offered.
Auch Promotionen im Bereich Bionik werden unterstützt. Einige Projektmitarbeiter:innen der "Biological Materials Group" haben über ihr Projekt promoviert (Ansprechperson: Prof. Dr.-Ing. Jörg Müssig). Im September 2022 wurde Dr. Karen Stamm aus der Arbeitsgruppe "Biological Structures and Biomimetics" unter Leitung von Prof. Jan-Henning Dirks in einem von der DGF-geförderten Projekt über das Anpassungsverhalten der Außenskelette aus Kutikula auf mechanische Belastung promoviert (siehe NEWS-Beitrag auf der Seite der HSB). Aktuell bietet das B-I-C eine Promotionsstelle ab September 2023 in dem internationalen und von der EU-geförderten Projekt Nature4Nature an.  
In addition to the biomimetics study courses, formats are also offered for the broader and specialized public to provide information about biomimetics and its approach:
The Biomimetics-Innovation-Centre is a member of the German Biomimetics Network of Excellence e. V. (BIOKON). Several projects of the institute are integrated in action groups of the German government, the European Union and the Deutsche Bundesstiftung Umwelt DBU. Moreover, the B-I-C is involved in the professional association "Technologies of Life Sciences (TLS)" of the Association of German Engineers (VDI) and in the Society for Technical Biology & Bionics (GTBB e.V.).
As a rule, the B-I-C can be found at the Hanover Fair, where it is in charge of a booth together with other representatives of biomimetics. In addition to research, selected student projects also find a presentation framework here to show themselves to industry and interested members of the public.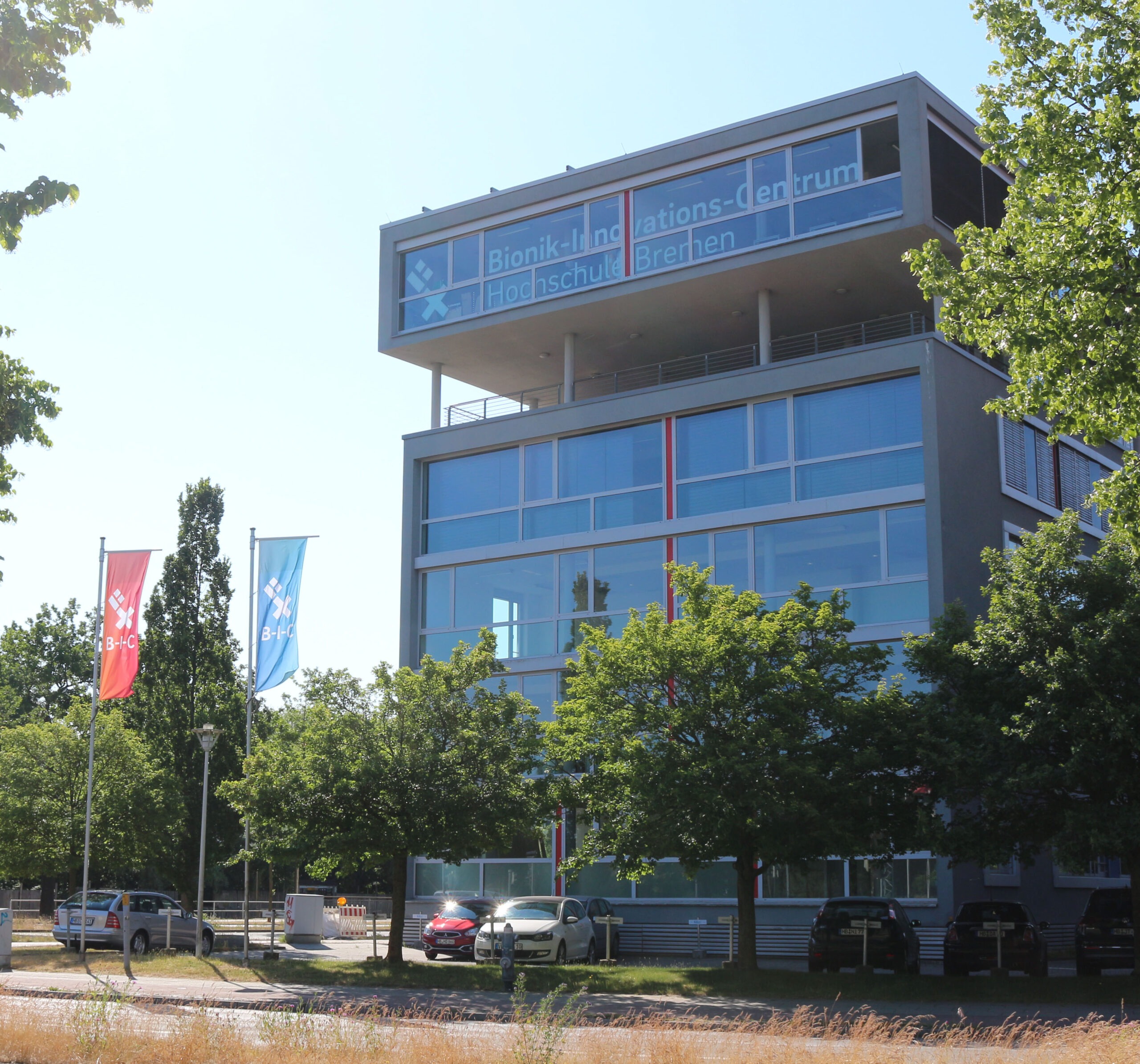 Contact: Biomimetics-Innovation-Centre (B-I-C) Hermann-Köhl-Str. 1 282199 Bremen Telephone: +49 421 5905 2525 Fax: +49 421 5905 2537 Email: b-i-c@hs-bremen.de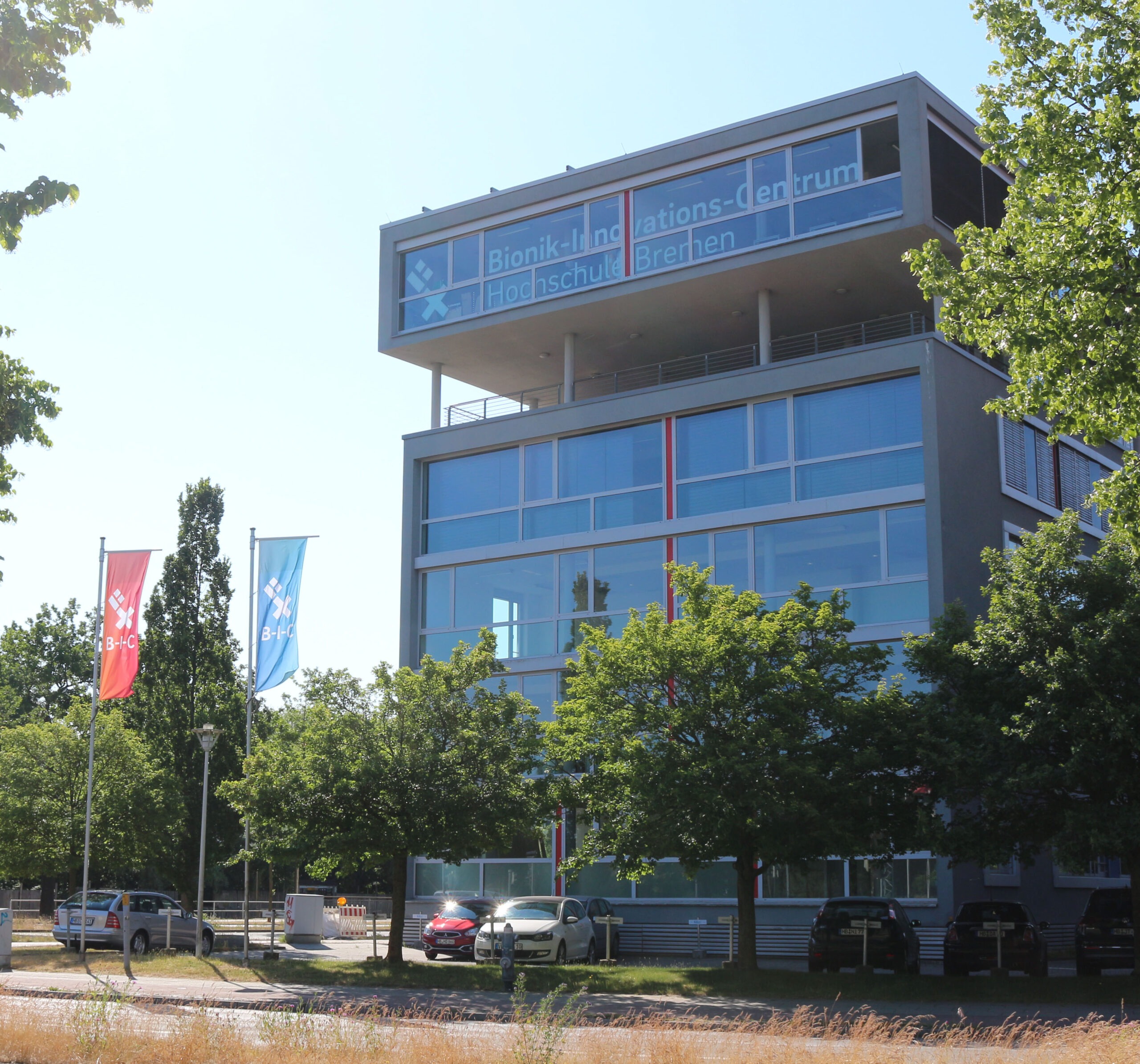 Contact:
Biomimetics-Innovation-Centre
Hermann-Köhl-Str. 1
28199 Bremen
Telephone: +49 421 5905 2525
Fax: +49 421 5905 2537
Email: b-i-c@hs-bremen.de